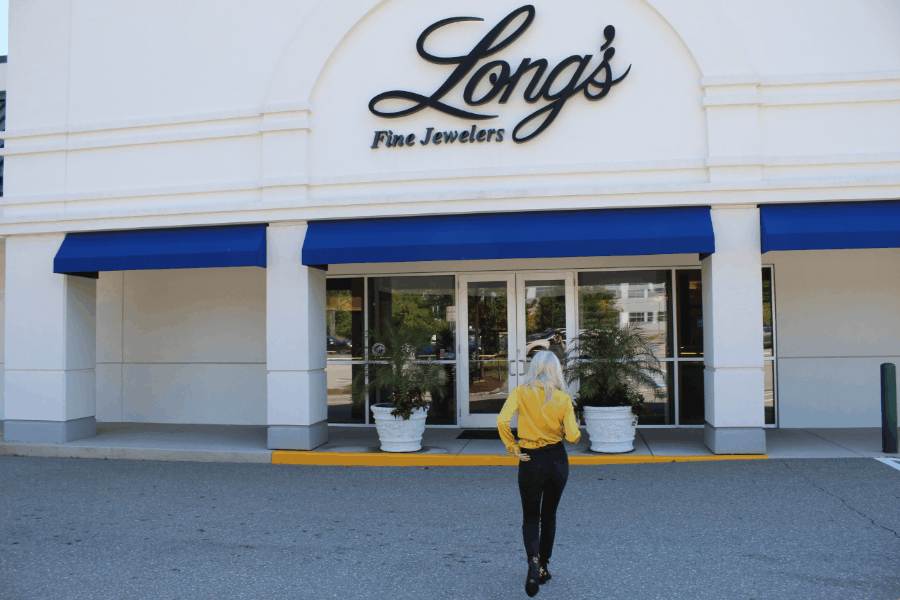 While most stores I visit on my #JewelryRoadTrip are happy and proud to be celebrating 5, 10, maybe even 20 years in business, Long's Jewelers has been a namesake since 1878! When I walked through the door and was first told this, I instantly stopped and had to take that in for a minute. That's pretty incredible. With five locations serving New England (four throughout Massachusetts and one in New Hampshire), it's no wonder northern east coasters know of or often have a memory tied to Long's Jewelers. Their expansive store includes a list of who's who amongst America's favorite jewelry lines (like David Yurman, John Hardy, Gumuchian, Marco Bicego, Roberto Coin, and many more) as well as a large watch selection, giftware and services like custom design, appraisals, and repairs. My focus was solely on their estate section because let's be honest, if I covered all that their store actually offers, I would have to move in for a week. And I actually would totally be up for that!
I've heard from multiple sources how Long's Jewelers' estate and vintage jewelry is their best kept secret. Let me tell you, that rumor is confirmed to be 100% true. At the Burlington location, hundreds of pieces lined the cases with every birthstone, time period and style you could imagine. The variety is exceptional and new inventory is displayed daily. If I lived closer, I'd be there all the time! I put together some looks in the photos above–just a small sampling of what they have to offer and pieces I felt styled well with one another. From bold gemstone rings, to Art Deco diamonds, and even a fun carved jade Buddha (which I actually purchased because I thought it was the cutest). Best part? All five locations carry a different and unique assortment of vintage jewelry. Now that's a serious #JewelryRoadTrip to hit up all five!
A definite highlight of my entire trip was getting to play with a highly-prized private collection of loose gemstones. As a gem enthusiast and gemologist, I noticed the exceptional quality of the stones as well as the intensity of the colors. Whoever collected these had a trained eye…or just really good taste! The stones are for sale and can be purchased individually–if there's one that catches your attention, feel free to email avalhouli@longsjewelers.com You can even screenshot my photo and circle your favorites to get prices on. I would do anything for that bi-colored tourmaline…and the purple stone is actually a tourmaline. Wow, I know.
Hope you enjoyed this look into just one of Long's locations and if you ever find yourself in Massachusetts (or Nashua, NH) make sure to stop by! You can shop my favorites from my visit below–and if you see a piece featured in the photos above, but it is not on the website, feel free to email avalhouli@longsjewelers.com
Also, I have a special discount especially for my readers–use code GEMGOSSIP10 to get 10% off any vintage or estate item from Long's. Shop here >> https://www.longsjewelers.com/collections/estate-jewelry
(five locations, the above feature is from their Burlington location)
60 South Ave.
Burlington, MA 01803
Follow on Facebook
Follow on Twitter
Follow on Pinterest
Follow on Instagram
(and they're estate jewelry Instagram!)
*Need a Boston hotel recommendation? Loews Boston was where I stayed and I highly recommend it! Thanks for the discounted stay, Loews!