Stacy Nolan has the imagination of a boundless wonderer paired with a perfectionist's detail-oriented brain. If you've held a piece of her jewelry, you would immediately notice the back of the jewel is just as gorgeous as the front! It has been a delight to discover her designs and see the craftsmanship–hence why I thought it would be neat to create some GIF images showing the front and back of the pieces. Her signature flower back displays that attention to detail which so many designers can't seem to get quite right. For Stacy, something as simple as a solitaire gem-set pendant isn't complete without a flower open-metalworked back! Are you a jewelry store owner looking for someone like Stacy to complete your jewelry inventory lineup?! You should get in touch!!
So right now, I am finally getting to create a series of one-of-a-kind pieces I've been dreaming about literally for years: a collection of pendants loosely inspired by tarot cards. I make all this jewelry that is easy and wearable because I think about making jewelry for someone like me — I'm active, I'm moving, my style evolves and changes, and so, as a designer, I get to dream up new things that fit with that lifestyle, but they have to be practical. I like to be smart about my purchases, I like to be smart about what I wear, because I want it to go with all the different things that I wear — it needs to be timeless and classic. But the tarot collection is an opportunity for me to express a larger range of aesthetics. The first one in the series is the Tarot Star. I've made all sorts of stars and crescents and other celestial shapes for years, but now I have the chance, literally, to put the entire cosmos together in one piece. And moving onto the next piece is also literally like drawing a card from the deck: you have no idea what it is until you turn it over and take a look.
I was a business major in college because it was the PRACTICAL thing to do, when the reality was that I just loved making things. I always had, and fortunately it didn't take TOO long before I set my career path straight. I was already making my own handmade designs with gemstone beads and findings, and taking metalworking classes on the side, until a friend pushed me to learn about the gems I was working with. The six months I spent down in Carlsbad at GIA were the start of my real education. When I came back to Los Angeles, I was swept up into a job as the in-house gemologist and buyer for a private jeweler who worked with musicians and athletes and all sorts of big LA personalities (and this was at the time that hip-hop bling was really popular!), but then, only a month after I started, the production manager suddenly quit and I found myself covering both jobs while they searched for a replacement. They never did — I ran the show. That was eleven years ago. And thus began my love affair with manufacturing diamond jewelry.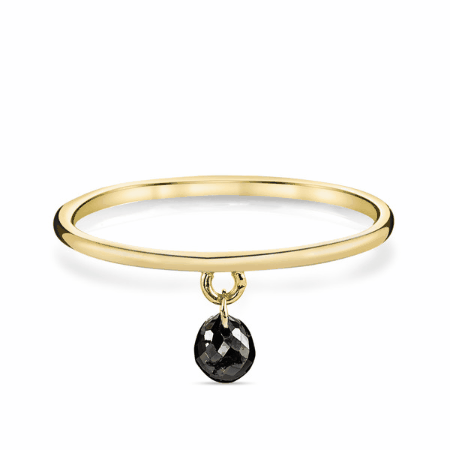 My proudest moment in my career so far, ironically, wasn't even about what I did. When my now-husband and I traveled to India and he proposed, he gave me a ring that he had managed to design and produce using all of my people downtown — without me having any clue that he was doing it and in spite of the fact that I told him not to get me a ring! I wanted to fall in love with a stone just like I fell in love with him — when the right one came along — and so his ring was a compromise: it was a simple twist in a white gold band, for, as he explained, a twist is the beginning of any good knot. It was so sweet, and the idea of that theme — the twist of fate — really stuck with me. I wound up developing an entire collection inspired by the twist, including some men's pieces (his wedding band was one of them). The best part of the whole story: I realized that the love for what I do really resonates with others, that my excitement about this work is apparent — even when I thought he wasn't listening.
This past year went beyond every expectation I had, mostly because of a few partnerships that blossomed in a truly beautiful way. Even though I run my own business, it is such a pleasure to work with other people — and to work hard for our shared goals. I love the collaboration, I love the structure, I love that going to work with the people behind these partnerships enables me to get out and see all sorts of new places. (One venture will even take me back to India next month, where I'll source stones, smooth out operations, and seek out inspiration in one of the most amazing places on Earth.) So my biggest goals for 2016 are to connect with some new, extraordinary people while continuing to build on the collaborations already in place.
That's tough…one of the perks of being a jewelry designer is that I get to change up my jewelry so often! I go through all kinds of different phases, and most everything I sell is something that I wear. But the one I always love wearing and will continue to wear is my diamond eternity pinky ring. In 18 years it has rarely come off. I bought the first version at a little jewelry store in the French Quarter in New Orleans, when I was in high school visiting Tulane's campus. When I came home from the visit, my grandmother saw me wearing it and exclaimed, "You can't wear that! It looks too much like a wedding ring!" Which, honestly, made me love it even more. But, I thought, she might be right, people might get confused, so I took it to a shop and got it sized down to fit my pinky. The next version I made in the early days of my company, when I knew more about the diamond quality and setting. That style has been a mainstay in my collection. It is simple, elegant and goes with all my other rings!
This post was brought to you in collaboration with Stacy Nolan Jewelry.