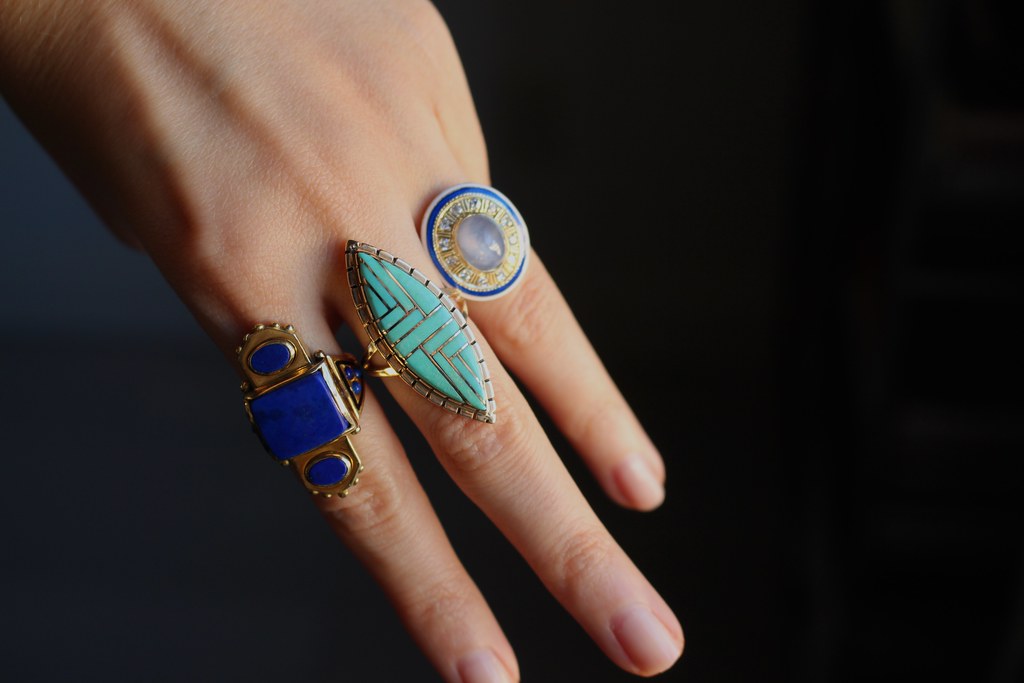 These were my top three most favorite acquisitions from the past year. I can't get enough of enamel, Native American Zuni pieces and geometric details.
As I look into my own jewelry box, I can predict some jewelry trends based off what I've been into lately–diamonds, opals, cool colors reign supreme.
Sentimental charms and charms with a theme are going to be huge for 2017. I have one common theme all on one bracelet–cross charms. Although bracelets are a great option, we are going to be seeing charms being worn more on necklaces.
Statement rings are huge for the new year–more specifically navette styles. As a long-time collector of this design, they are going to be in demand in every size–small, medium and large.
Continuing its comeback, PINKY RINGS! I seriously can't leave the house with one and I think it totally balances a ring stack. I used to look back on my old stacks and say, "cool but I really could've used a pinky ring to balance out the look."
Layers upon layers of necklaces, choker styles and some dangling with charms. Got tangles? That's ok!
As with everything in life, time goes on and the world continues to spin…but as we said goodbye to 2016, did we also say goodbye to some jewelry trends? And what is in store for 2017? Most of you are doodling in your journals or freshly purchased 2017 calendars the words, "new year, new me!" in your best handwriting. I'm here to help you make that wish happen and make sure you are totally in the know with what's going on in the world of jewelry trends.
You may have guessed, some of the things you've let go or sold for scrap gold are coming back. But this isn't groundbreaking news. This tends to happen in many aspects, including fashion and home decor. Those mom jeans everyone made fun of are suddenly all you are wanting to get your hands on…and those brass fixtures your grandma used to scatter around her house are now in demand. If this has you thinking you're suddenly trapped in the Twilight Zone, look no further than the necks of fashionistas. Chains upon chains with a sort of Mr. T theme are sweeping the trend forecast here on Gem Gossip–and yes, I've just ordered myself a choker-length heavy figaro chain. What am I, back in 8th grade dressing like my former wankster boyfriend? Yes. You are.
I'm ok with that because the look is amazing and speaks to my aesthetic of more is more. As a maximalist through and through (have you seen my office?!) I tend to fill up spaces, including my body, with the most of everything I love. An empty white wall? Omg no–fill it with a hundred gold frames from top to bottom. A bare neck? What are you crazy? Drape every chain you have in your jewelry box and create a look. You may wonder about my dismay when people buy things and don't enjoy them or put them away for a "special time." That's craziness to me.
Besides the 80s chains/90s choker styles, there are several other jewelry trends for the new year. I've highlighted a few above using pictures to illustrate as best as I can. Are there any trends you think will be big for 2017 that I haven't mentioned? Make sure you email or tweet me! I'd love to hear your take.
And jewelry trends I hope to see go — I know so many of you are going to hate me for this but, dainty jewelry! It is still so strong with sales, jewelry designers and are often some of the top photos with most likes on Instagram, but I am so over dainty jewelry. I don't know where this sudden Texas mantra of "bigger is better" is coming from out of me, but that has become my slogan. At least in the ring department. Earrings and necklaces are a different story I guess.
And finally, I wanted to do a fun New Years-like countdown of my TEN favorite rings to RING in the New Year. Corny, right? So corny but so necessary. These are the foundation of what is on my wish list for the future and what I'm currently feeling at this very moment in time. Enjoy!
10. This funky mashup created by Erie Basin, which is part spaceship part intergalactic fantasy. Anything funky or out-of-this-world seem to be high on my list of demands. This is so YES.
9. Obsessing over anything Bario Neal creates in their store/studio located in Philadelphia. Their incredible gemstone pops of color mixed with interesting details and combinations is something I am loving right now. It also doesn't hurt that everything is thoroughly ethical in every way possible.
8. When Steven Sher Antique Jewellery posted this ring I couldn't keep my eyes off it. The backstory of it makes it even cooler–they basically gave their jeweler a bag of emeralds and created this from five he chose out of the random bag. Creativity like this just comes naturally for some people and this jeweler has it!
7. A ring that looks like it is featured in a museum from an archeological dig, this piece caught my attention when I found out it is a brand new piece designed by HHD Jewels, also know as Henry Dakak Jr Jewels. Henry is a Lebanese designer who not only designs jewelry, but furniture, lighting and home accessories.
6. We all know my obsession with antique diamond elongated rings. This one from Trademark Antiques had me swooning as soon as I saw it. Every year I usually add at least one to my growing collection of these and I'm excited to see which one I will add in the upcoming year.
5. When I look at this ring I instantly smile. That's what I love most about this Harika Fine Jewelry design. I also can't get enough of face motifs in jewelry and this one is definitely a unique spin on that.
4. A statement ring is something you keep hearing me say over and over in this trend forecast and this is the ultimate statement ring! Designed by Emily P Wheeler using an incredible 2.67 carat garnet cut by TopNotch Faceting–I love how she added diamonds and moonstones in varying sizes to surround the stone.
3. Since the day I visited David Webb in NYC and got my own private tour I've been obsessing over and saving up for my very own special piece. I have no idea what I want but when the time comes (probably years from now) I will hopefully know exactly which it will be. In the meantime, I'll continue to obsess, like over this panther ring.
2. Voiage Jewelry continually posts the most lust worthy jewels but for some reason this particular ring grabbed my attention the most. I love when a designer can balance lots of color, which this ring totally does, but it also balances several different shapes. It also features a trend that I actually haven't mentioned here yet, but geometrics and modern design–both heavily apparent in this piece.
1. And finally, number one is this collection from Polly Wales wonderfully photographed by stockist New Twist. It's bright, it's fun, it's bold–so many features which scream new beginning, fresh start. So if you're looking for a ring which will bring you luck and happiness into the new year, Polly Wales' Ourika Collection has you covered!
HAPPY NEW YEAR EVERYONE!
WANT MORE? Check out more jewelry trends