We are kicking off July with an incredible jewelry collection story from Emily, also known as @GemCircus. If you're a part of the jewelry Instagram community, you'll easily recognize some of the jaw-dropping pieces in Emily's personal collection. From the way she styles her necklace layers, to ring stacks, arm parties, and everything in between, we love her taste and enthusiasm for antique jewelry. I'm so excited she has agreed to share her story with us, so let's sit back and enjoy:
My love for vintage and antique collecting started when I was a teenager, after my family moved to Vancouver, Canada, from Hong Kong in the early 1990s. I remember it was July when we arrived and I would walk to the nearby library every other day to borrow books to read (our container didn't arrive almost a month later so all I have in my room were merely a bed, a built-in closet and my backpack). I started to notice our neighbours' garage sales in my walks and I was amused at the things people were selling – from snow cone machines to music records, jewelry to stuff toys. That summer of looking through other people's belongings and engaging in rapports gave me a sense of belonging and connection to the community. Ever since then I have become a frequent visitor to community flea markets, thrift shops and antique shows.
My jewelry obsession started around early twenties with vintage jewelry, in particular charms and silver filigree bracelets. I love to style them on mixed metal chains and I still love styling them now.
I wasn't picky and didn't have a favourite period at that time so I usually picked up quirky little things like brooches, pins, jewel "plaques" (which I found out they were called "clasps" later) etc. Even though my collecting seemed to be random at that time, I was already drawn to jewelry that have motifs, like this brass crescent with hand and arrow and the clasped hand ring that I found in a thrift store. Looking back, I believe my love for antique sentimental jewelry originates from this pair!
A lot of my Instagram followers already knew that I adore Georgian and Victorian sentimental and mourning jewelry, as well as portrait jewelry. This probably relates to my "innate sensitiveness" (as Carl Jung coined it) and the way I see jewelry as not merely an adornment but also a medium for expression, an art, an identity of who we are.
After I started reading books on lover's eye, portrait miniature and mourning jewelry, I became obsessed with researching stories behind the jewelry that I collect. I realized that the brass crescent and the hand motif ring are not 'funky little things' as I thought in my teenage days, they actually carry specific meanings – love, new relationship and friendship – in the Victorian era. As my jewelry collection matures over time, I began to search for jewelry with motifs or meanings, like the urn, masquerade (masked lady), hand (figa, clasped hand, claddagh), heart (double-heart, flaming heart), star and crescent, buckle, swallow, snake, fern, acoutistic ("REGARD" and "DEAREST") and Halley's comet etc.
I like to think that every piece of antique jewelry carries its own story of those before us, and I'm a custodian carrying on its legacy while creating my story with my collection. I love styling and always try to mix and match, experiment with different stacking and mixed metal, and do simple conversions to make every piece wearable. You can see from my Instagram photos that I've worn a big opal crescent brooch with another monkey brooch in the middle, stacked seven Art Deco wedding bands to make a statement ring, wrapped my wrist with antique chains and added a micromosaic brooch on top, stacked an Art Deco paste bracelet with a Hermes red enamel bangle, wore brooches on hats, and layered antique gold chains with watch chains. The fun is endless!
I shop everywhere but recently it's largely online as there aren't any antique jewelry shops in Hong Kong. I love the Instagram community as I've met so many wonderful souls (many of whom have become friends for life) around the world that share my obsession in antique jewelry. I always visit antique and jewelry shops when I travel too. It has been a tradition to bring back a piece of jewelry from each city that I visit.
One of my obsession is Georgian masquerade jewelry: masked lady ring with ruby bonnet and rose cut diamonds from @karendeakin.antiques ; locket from @abrandtandson and the most recently acquired oval ring from @bijouxvictim
Ring stacking is a daily essential for me: Georgian blue enamel rose cut diamond urn ring from @lenoredailey ; the moonstone on the mourning ring was a gift from my jeweler in Vancouver (he has kept it for 40 years!) and it fits perfectly on the bezel of the once empty mourning ring; flat cut garnet band from @antiqueanimaljewelry
Mourning rings and figas: these enamel mourning rings are too big to wear so I usually wear them on gold chains as pendants. The twin coral figas were acquired from different continents yet they look so much alike. The one with emerald and diamonds was found in a UK auction and the one with seed pearl top was found in an antique show in Vancouver.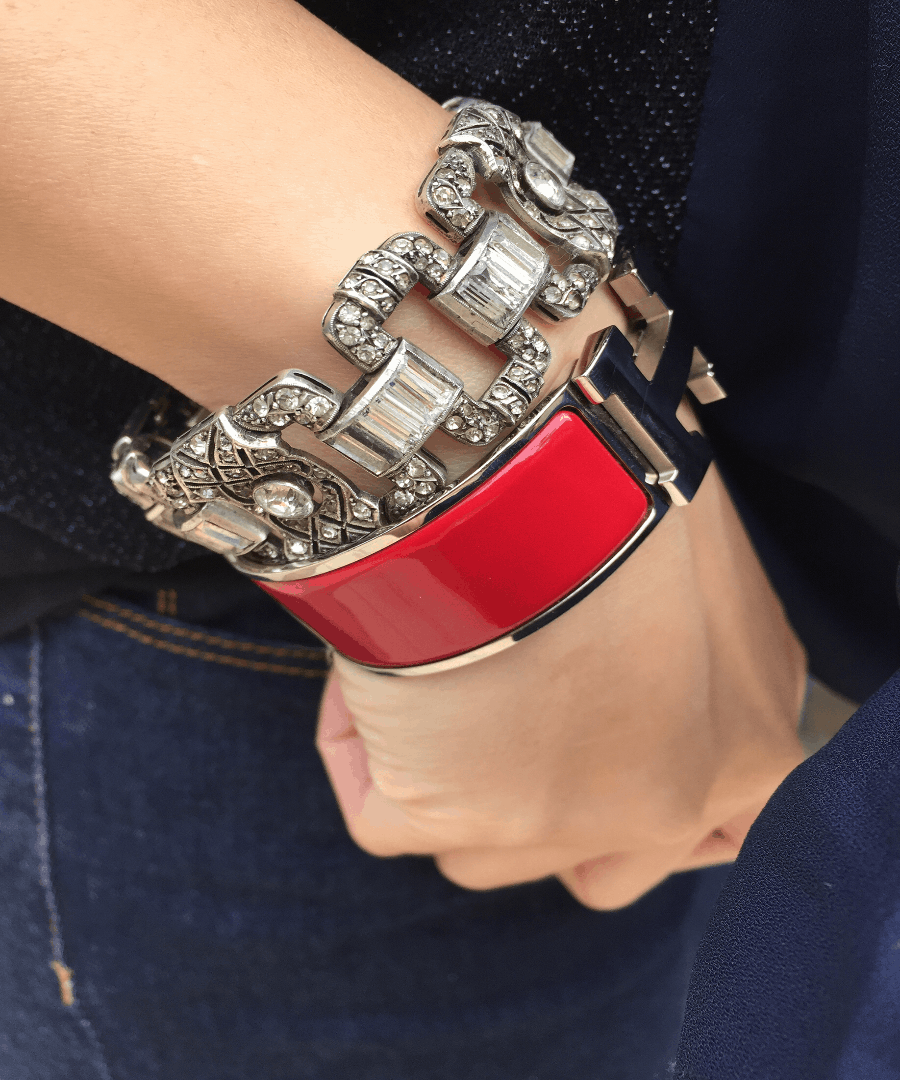 WANT MORE? Check out the other Jewelry Collection Stories
You can follow Emily –> @GemCircus