Entries in jewelry store boston (2)
Monday, July 31, 2017 at 6:00AM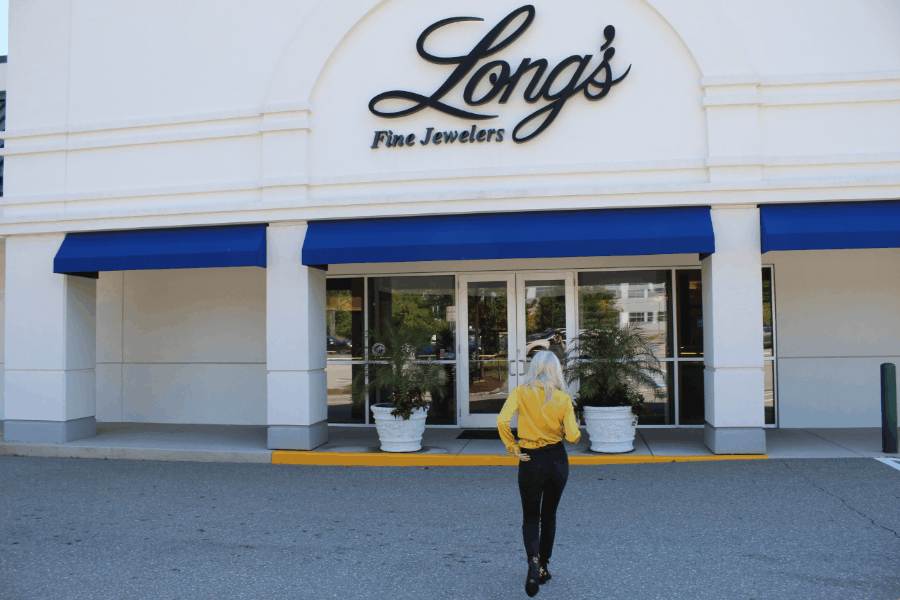 While most stores I visit on my #JewelryRoadTrip are happy and proud to be celebrating 5, 10, maybe even 20 years in business, Long's Jewelers has been a namesake since 1878! When I walked through the door and was first told this, I instantly stopped and had to take that in for a minute. That's pretty incredible. With five locations serving New England (four throughout Massachusetts and one in New Hampshire), it's no wonder northern east coasters know of or often have a memory tied to Long's Jewelers. Their expansive store includes a list of who's who amongst America's favorite jewelry lines (like David Yurman, John Hardy, Gumuchian, Marco Bicego, Roberto Coin, and many more) as well as a large watch selection, giftware and services like custom design, appraisals, and repairs. My focus was solely on their estate section because let's be honest, if I covered all that their store actually offers, I would have to move in for a week. And I actually would totally be up for that!
I've heard from multiple sources how Long's Jewelers' estate and vintage jewelry is their best kept secret. Let me tell you, that rumor is confirmed to be 100% true. At the Burlington location, hundreds of pieces lined the cases with every birthstone, time period and style you could imagine. The variety is exceptional and new inventory is displayed daily. If I lived closer, I'd be there all the time! I put together some looks in the photos above--just a small sampling of what they have to offer and pieces I felt styled well with one another. From bold gemstone rings, to Art Deco diamonds, and even a fun carved jade Buddha (which I actually purchased because I thought it was the cutest). Best part? All five locations carry a different and unique assortment of vintage jewelry. Now that's a serious #JewelryRoadTrip to hit up all five!
A definite highlight of my entire trip was getting to play with a highly-prized private collection of loose gemstones. As a gem enthusiast and gemologist, I noticed the exceptional quality of the stones as well as the intensity of the colors. Whoever collected these had a trained eye...or just really good taste! The stones are for sale and can be purchased individually--if there's one that catches your attention, feel free to email avalhouli@longsjewelers.com You can even screenshot my photo and circle your favorites to get prices on. I would do anything for that bi-colored tourmaline...and the purple stone is actually a tourmaline. Wow, I know.
Hope you enjoyed this look into just one of Long's locations and if you ever find yourself in Massachusetts (or Nashua, NH) make sure to stop by! You can shop my favorites from my visit below--and if you see a piece featured in the photos above, but it is not on the website, feel free to email avalhouli@longsjewelers.com
Also, I have a special discount especially for my readers--use code GEMGOSSIP10 to get 10% off any vintage or estate item from Long's. Shop here >> https://www.longsjewelers.com/collections/estate-jewelry
(five locations, the above feature is from their Burlington location)
60 South Ave.
Burlington, MA 01803
Follow on Facebook
Follow on Twitter
Follow on Pinterest
Follow on Instagram
(and they're estate jewelry Instagram!)
*Need a Boston hotel recommendation? Loews Boston was where I stayed and I highly recommend it! Thanks for the discounted stay, Loews!
Tuesday, July 25, 2017 at 6:00AM
Quadrum Gallery resides inside a mall called The Shops at Chestnut Hill
The most mouth-watering stack I've ever created, all rings are by Lilly Fitzgerald, shop here
Mesmerized by Paul Morelli's designs, love the moonstones! shop here
Director of Quadrum Gallery, Sia Maravelias, shows me around as I'm entranced by all the gorgeous jewels
California-based designer Julez Bryant is one of Quadrum's newest additions, shop here
the work of Lilly Fitzgerald inside one of the cases
Last year, Quadrum added Spinelli Kilcollin to their repertoire and it has been one of their best sellers, shop here
I love when designers' work complements one another--here I'm wearing Moritz Glik & Sorellina
Quadrum understands that one can never have too much Gabriella Kiss Jewelry, so they keep a heavy stock! shop here
I fell in love with these whimsical gemstone charms handmade by Maria Beaulieu, shop here
Wearing two gorgeous diamond necklaces by TAP by Todd Pownell, shop here
Anthony Lent Jewelry is another new addition for Quadrum, shop here
Jewelry by Sorellina both left and right photos, shop here
Moonstone magic, all jewelry by Paul Morelli, including the engagement ring
the unique earring display for the work of Maria Beaulieu
Spinelli Kilcollin rings piled on...they go perfect with my star boots
Lilly Fitzgerald jewelry--the necklace is made of apatite, shop here
Jamie Joseph is always popular and her work is highly collected, shop here
Quadrum is an ideal place to shop for your engagement ring, look at the variety of styles! Shop more here
These watermelon tourmaline earrings by Lilly Fitzgerald were a favorite, shop here
We've got a mix of Sorellina, Moritz Glik, and Paul Morelli
You can stop by Quadrum Gallery any day of the week! Love that about the store...if I lived closer, I would be there all the time :)
More Gabriella Kiss, this time on my hands! shop here
Gabriella Kiss designs lots of unique pieces, all shown here
Wearing Julez Bryant--check out my geometric ear stack! shop here
Up close shot of the two Moritz Glik rings ("shaker" diamonds) and Sorellina band
The outside of Quadrum Gallery, where you can easily spend hours gasping and coveting.
Another shot of the Spinelli Kilcollin rings, shop here
Gabriella Kiss rings lined up all in a row, ready for new homes!
For over 39 years Quadrum Gallery has paved its own way, formed its own niche, and outshined ordinary jewelry stores both locally and across the US. There's something to be said about a store that can march to the beat of its own drum and their success is because of this. Cynthia Kagan - the owner of Quadrum - had the passion and vision of creating this space known for its unique and exciting mix of artisans and jewelry designers. The artists represented can easily wow with a single glance. I was laughing as I was going through the photos taken from my very fun visit to Quadrum early on a Wednesday morning--every photo of myself I have my mouth open in a state of euphoria, most likely verbalizing the words WHOA or WOW, because that's all I could say. The jewelry is just as special as each designer's story is--what inspires them to create, where they are based, how they started...Quadrum is full of magic and I'm excited to share my visit with you all!
Sia Maravelias has been director of Quadrum for over 12 years, with 18 years total of working at the store, and has an enormous passion for jewelry. I also met with Amy Renneisen, assistant director who is equally addicted to jewelry as well. Playing with jewelry all day is just a tiny fraction of what these women do on a daily basis. One of their most favorite things is interacting with their dedicated clients who follow profusely on Instagram, print out their own wish lists from scrolling through the website, and are counting down days until their favorite designers host a trunk show at the store. Sia recalls, "Our Gabriella Kiss trunk shows create some large crowds in our store...it is always so much fun!"
Quadrum is exclusively designer-centered, meaning they don't create their own in-house line of jewelry or have a repair shop on site. With the focus being on the artists, the store has become a destination. The selection is one of the most unique and distinct out there, having formed some of the longest-running relationships with certain designers. A great example of this is they've carried Barbara Heinrich for over 32 years, John Iversen, Reinstein/Ross, and Pat Flynn all over 20 years! Every year the Couture show is a tradeshow the team looks forward to and is often when they scout out a select few new additions to their artist lineup. This year they've added Anthony Lent, Sorellina, Moritz Glik and Julez Bryant.
Another aspect that I highly admire about Quadrum is something I just learned of when I visited. They do all their own photography, as well as their website and social media. All photography has been self-taught and it is honestly some of the best I've seen. Jewelry photography is no easy feat and those in the business know this quite well. I also love how both Sia and Amy have their own Instagram pages aside from the main Quadrum Gallery page. Both of their Instagrams are dripping with inspiration, whether it is how to stack or style some of the pieces from the store or new arrivals headed to the cases. You can follow Sia at @jewelry_maven and Amy at @thegemdiaries
Thanks so much for having me and I will forever be dreaming of all the incredible jewelry I saw while visiting.
The Shops at Chestnut Hills
199 Boylston St.
Chestnut Hill, MA 02467
Follow on Facebook
Follow on Twitter
Follow on Pinterest
Follow on Instagram
*Need a Boston hotel recommendation? Loews Boston was where I stayed and I highly recommend it! Thanks for the discounted stay, Loews!