Entries in engagement ring boston (2)
Monday, July 31, 2017 at 6:00AM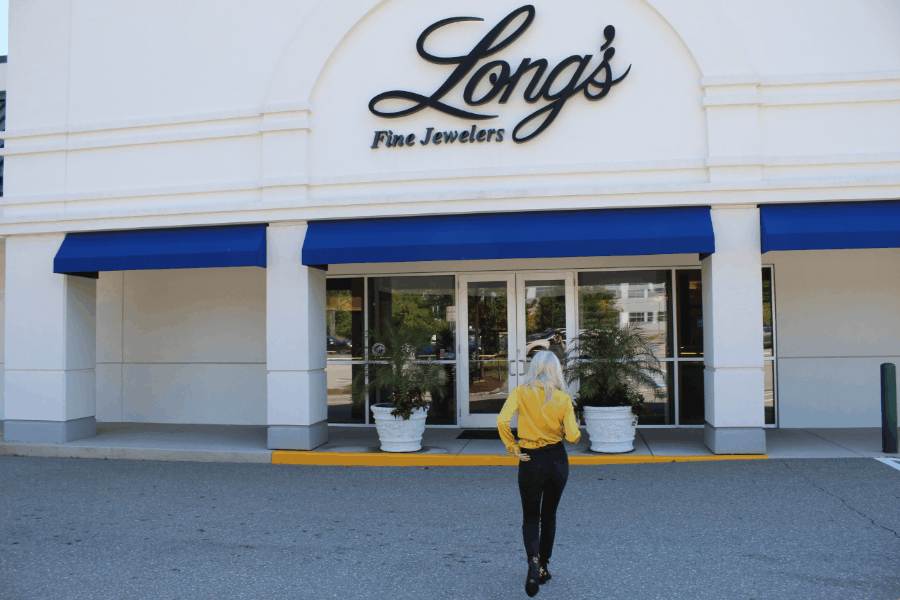 While most stores I visit on my #JewelryRoadTrip are happy and proud to be celebrating 5, 10, maybe even 20 years in business, Long's Jewelers has been a namesake since 1878! When I walked through the door and was first told this, I instantly stopped and had to take that in for a minute. That's pretty incredible. With five locations serving New England (four throughout Massachusetts and one in New Hampshire), it's no wonder northern east coasters know of or often have a memory tied to Long's Jewelers. Their expansive store includes a list of who's who amongst America's favorite jewelry lines (like David Yurman, John Hardy, Gumuchian, Marco Bicego, Roberto Coin, and many more) as well as a large watch selection, giftware and services like custom design, appraisals, and repairs. My focus was solely on their estate section because let's be honest, if I covered all that their store actually offers, I would have to move in for a week. And I actually would totally be up for that!
I've heard from multiple sources how Long's Jewelers' estate and vintage jewelry is their best kept secret. Let me tell you, that rumor is confirmed to be 100% true. At the Burlington location, hundreds of pieces lined the cases with every birthstone, time period and style you could imagine. The variety is exceptional and new inventory is displayed daily. If I lived closer, I'd be there all the time! I put together some looks in the photos above--just a small sampling of what they have to offer and pieces I felt styled well with one another. From bold gemstone rings, to Art Deco diamonds, and even a fun carved jade Buddha (which I actually purchased because I thought it was the cutest). Best part? All five locations carry a different and unique assortment of vintage jewelry. Now that's a serious #JewelryRoadTrip to hit up all five!
A definite highlight of my entire trip was getting to play with a highly-prized private collection of loose gemstones. As a gem enthusiast and gemologist, I noticed the exceptional quality of the stones as well as the intensity of the colors. Whoever collected these had a trained eye...or just really good taste! The stones are for sale and can be purchased individually--if there's one that catches your attention, feel free to email avalhouli@longsjewelers.com You can even screenshot my photo and circle your favorites to get prices on. I would do anything for that bi-colored tourmaline...and the purple stone is actually a tourmaline. Wow, I know.
Hope you enjoyed this look into just one of Long's locations and if you ever find yourself in Massachusetts (or Nashua, NH) make sure to stop by! You can shop my favorites from my visit below--and if you see a piece featured in the photos above, but it is not on the website, feel free to email avalhouli@longsjewelers.com
Also, I have a special discount especially for my readers--use code GEMGOSSIP10 to get 10% off any vintage or estate item from Long's. Shop here >> https://www.longsjewelers.com/collections/estate-jewelry
(five locations, the above feature is from their Burlington location)
60 South Ave.
Burlington, MA 01803
Follow on Facebook
Follow on Twitter
Follow on Pinterest
Follow on Instagram
(and they're estate jewelry Instagram!)
*Need a Boston hotel recommendation? Loews Boston was where I stayed and I highly recommend it! Thanks for the discounted stay, Loews!
Friday, July 28, 2017 at 6:00AM
Come along with me as I take you inside M. Flynn in Boston!
Such a gorgeous selection of engagement & wedding -- these are a mix of Anna Sheffield & M. Flynn's own bridal designs, shop bridal
Getting the store tour from co-founder Megan
some of Page Sargisson zodiac medallions, a best-seller
I'm wearing some pieces from M. Flynn's estate selection, the necklace was created out of a collection of vintage hat charms!
I love the crystal chandeliers and white fixtures--it is its own jewel box!
Some more vintage pieces from their estate section: antique buttons turned into pendants, a scottie dog, and a stick pin converted into a pendant
The entire back wall is covered in crystals floating from invisible wire--it is quite magical!
M. Flynn has all the right studs to create an epic ear stack, shop earrings -- and loving the turquoise selection, Mociun + vintage
Turquoise has taken over a section of this case and we're not mad at that.
A fun line of jewelry called Loquet allows you to customize gems and gold trinkets inside a rock crystal dome
Wearing rings by Misa Jewelry and necklaces by Page Sargisson
M. Flynn loves working one-on-one with clients to help them find the perfect piece!
I can't get enough of these estate pieces!
The shop has been open since 2009 and is located amongst some amazing restaurants and walking areas.
Nautical, New England style fully represented in the Turk's Head collection by AGA Correa
Fashion jewelry also lines the shelves of the shop, along with jewelry books and other jewel-inspired gifts
An up-close shot of the necklaces from Page Sargisson & diamond Misa Jewelry
Shop M. Flynn's estate collection
myself with the founders & owners of M. Flynn, sister duo Megan & Moria
Gorgeous crystal chandeliers are the perfect touch to the light and airy decor
Vintage charms found at M. Flynn
A dazzling curtain of crystals which doubles as artwork...all the best jewelry books one can fathom...flawless displays...sparkling jewelry of all kinds...and one mascot named Stu. This reads as the ultimate recipe for a beautiful, successful jewelry store, which happens to be a real-life place. It is called M. Flynn Jewelry and the shop is located in Boston, Massachusetts. I was lucky enough to visit the store on my #JewelryRoadTrip, where I learned all about its beginnings, what it has to offer, as well as the two sisters behind the namesake: Megan & Moria Flynn!
Opened in 2009, the store fostered the sisters' love for all things sparkly. Elizabeth Taylor is a jewelry icon for all of the world, but for Megan & Moria, she is everything! They wanted to create a space where they can serve multiple needs for their clients and the store has evolved over the past several years, growing along the way. Their are a few important features of M. Flynn Jewelry--so let's break down each one!
Their own line of jewelry: if you need classic, every day wear pieces the M. Flynn line is just what you're looking for. Gemstone rings, necklaces, bracelets and earrings make up the line, including bridal options as well. They also have a collaboration collection called the Gates Collection which they've created along with an interior designer/blogger that is highly popular--Erin Gates.
Designer jewelry: M. Flynn has been expanding each year, adding new designers they feel are a good fit for both their store and the Boston area. Some of the best selling and favorites are Adel Chefridi, Page Sargisson, EF Collection, Misa Jewelry, Mociun, Loquet, Kelly Bello, and more.
Bridal jewelry: An ideal destination for all your wedding needs, M. Flynn can create your dream ring! They also have a large assortment of finished pieces from their own designs, as well as top designer engagement rings from Anna Sheffield, Mociun, Misa Jewelry, and Page Sargisson. They also have a selection of men's wedding bands too!
Estate Jewelry: All periods, all styles--M. Flynn loves it all, so if it is delicate and sentimental or retro and unique, you will find it here. Lots of rings, some earrings and necklaces, and a large assortment of charms. This section is ever-changing and always one-of-a-kind, so check back often!
Fashion Jewelry: I know Gem Gossip does not cover fashion jewelry at all, but it is noteworthy that M. Flynn does carry fashion jewelry--lots of different designers, such as Lizzie Fortunato, Pamela Love, and Alexis Bittar--and great price points for gift-giving season.
Gifts/Accessories: Who knew jewelry-related gifts were so fun?! Gem Water bottles, jewelry travel cases, fragrances, cards, candles, jewelry books...you name it, they have it! I need this store in my life during the holidays!
Custom design: Besides all the above amazingness, M. Flynn also can custom design your dream piece. Whether you bring in family stones or have nothing at all except for a few slight ideas, they are here to help with that. You will be loving the finished result and coming back for more.
Hope you enjoy browsing the above photos from my visit--I know you will have heart-emoji eyes while doing so. Megan & Moria are truly so nice and have such a passion for what they do--I also have major respect for Megan getting her gemology degree at GIA. Not many store owners do so and I think that's amazing! Next time you're in Boston, pop in and say hi--make sure to pet Stu for me!
40 Waltham St.
Boston, MA 02118
Follow on Facebook
Follow on Pinterest
Follow on Instagram
*Need a Boston hotel recommendation? Loews Boston was where I stayed and I highly recommend it! Thanks for the discounted stay, Loews!