Entries in best jewelry trends (3)
Monday, June 19, 2017 at 6:00AM
After acclimating to normal life, and when I say normal I mean not having to take 700+ photos per day while meeting one jewelry designer after the other all while trying to look like I haven't just slept for 4 hours and only eaten a diet that could sustain a person for a brief moment, I am happily enjoying my quiet reflection time from the Couture show. Happy to be tucked away in laid back Nashville, far from the dry air, noisy crowds and thick cigarette smoke of Vegas. But don't get me wrong, there is a large part of me that absolutely loves everything about Vegas Jewelry Week--including all that is complained about.
One of my most favorite things to do when Couture is over is go through all my photos, take in all that I just saw and narrow down all the goodness into a small list of top jewelry trends. It is no simple task and I like to keep my trend categories somewhat pinpointed, so they are not so broad. Tracking trends and observing how these trends evolve is some science mixed with a heavy dose of anthropology, and no I don't mean the lifestyle/clothing store.
So here are the five jewelry trend categories I've come up with that were the most dominate in the best way possible from Couture 2017. They are in no particular order and are illustrated using just ONE example of designers I had appointments with--there are several other pieces and designers that also captured these top jewelry trends too!
1. Rainbow Waves:
I was seeing SO MUCH rainbow around Couture; color everywhere! I was totally loving it. This trend was best exhibited by Jane Taylor Jewelry whose designs get more and more colorful every year. Every ROYGBIV fan out there can spot the gemstone that represents each spectral color. Designers are embracing color and incorporating all colors into their designs. Buyer and jewelry lovers are searching for pieces that are vibrant, colorful and play off one another while still displaying a rainbow of hues.
2. Shoulder-Duster Statement Earrings:
We've seen earrings trend all across the board in the past few years--from simple studs, to ear jackets, to ear climbers/crawlers...even ear cuffs. This year was all about the bold, shoulder-dusting statement earrings. Long in length, sleek in style, and statement-making in their own right. Above, I clearly saw some great examples of this trend at Lydia Courteille. These pieces were quite breath-taking and feature her signature black rhodium and rainbow of gems (which ties in with the first trend). I love Lydia's gem choices and color combinations. We recommend this trend with pulled back hair and no necklaces.
3. Modern Geometric:
Perhaps one of my favorite trends, the modern, sculptural pieces that have a hint of geometry to them. This trend is easily showcased best by Brazilian designer Yael Sonia. Her designs exude a futuristic feel, very 3017. She uses Brazilian gemstones and each item is handcrafted in Brazil. I love the 3D cubes, spheres and the use of movement that is also incorporated into her pieces.
4. Gold Wire Necklaces:
Chains took a backseat this time around at Couture--it was all about the solid gold wire. Whether it was plain or decorated in gemstones, the wire collar can exquisitely flatter any neckline, all while making a statement. I think the gold wire has gained popularity lately because it almost resembles a choker, has the same capabilities as a regular chain, yet it is heavy, rigid and substantial. Above, one of my favorite gold wire collar necklaces found at Couture 2017--this one is by Zoe Chicco and features bezel set diamonds of various cuts set throughout the piece. It is elegant and edgy at the same time! So good!!
5. Charms:
I was not expecting charms to be such a highlight and hit at Couture 2017, but they totally were and as a charm collector, I was loving all the interpretations I was seeing! Each designer had their own take on charms--their own motifs and ideas came to life in colorful and gem-set renditions. The most well-known being the Gemfields x MUSE collaboration charm necklace, as people are STILL talking about it! I loved Sydney Evan's charms (shown above) as they were quirky, fun and very colorful. Her signature motifs, like the evil eye, the word "Love," wishbone, lips, etc. were brought to life as charms. The trend is great for many reasons--low price points, easy to collect, and the wearer can choose to wear them any way they want!
Want more? See my top picks from last year's show!
Thursday, April 27, 2017 at 6:00AM
This is my fourth year partnering with May Is Gold Month and I think it goes without saying that I love all things karat gold! In preparing for this trend post, I thought it would be a good idea to spread out almost all of my jewelry across my entire desk. Scattering each piece allowed for all the memories, sentiment, special occasions and sparkle to overflow at once. I was reminded how powerful gold can be in more ways than one. It also helped me fully understand why May Is Gold Month exists and why they are so adamant about celebrating a single metal.
When found in the ground, gold can look like an undesirable pebble; dirty and hiding its value. It is the makers and jewelry designers who unlock the true beauty of gold when they create a piece of jewelry using gold. It comes to life and takes shape--it can be made to look shiny, textured, brushed, or hammered. It can be rose, green, red, or brown (even some other colors too). A single piece of gold jewelry can provoke laughter, tears and joy, all at the same time. It also can unlock the trends, feelings and historical happenings from which time period it was made.
All of my karat gold jewelry has a special place and meaning in my life. Some pieces were created during the turn-of-the-century, when other metals were being discovered and created...but gold always reigned supreme. Other pieces were designed specially for me by jewelry friends who have become like family. And my most important pieces of karat gold jewelry have been passed down to me, with tender stories and rich histories. It is my passion to teach others how to take all these jewels and style them in numerous ways, and it is May Is Gold Month's commitment to celebrating this that makes May one of my favorite months!
So this year's trends will keep you on your toes--let's get creative, as I challenge you each week to showing me how you style, wear and show me your karat gold with these six weekly trends--have fun!
Trend #1: Wrist Ornaments
My wrists have been BFF with these Victorian hinged bangles since the day I acquired each one. You know how the Cartier Love bracelets are known to "become a part of you" once you wear one--it is the same with these guys to me--and better yet, not every girl has a Victorian bangle. These are all 14k yellow gold and are uniquely me. I'm hoping to add another to my stack soon!
Trend #2: Jumping Through Hoops
Let's face it, hoops never go out of style--they may go on a hiatus every so often--but come back even stronger than ever every time. Like right now! Hoops are so popular--I've had these large, very light-weight 14k gold hoops for years now. I decided to update my hoop look by adding these post hoops that are tiny but very wide by J. Hannah. I love how modern they can look and how easy they can pair with just about anything!
Trend #3: Finger Frill
Ah, easily my favorite of the weekly trends. Lately I've been loving all-gold looks paired together...ones that are geometric and linear in nature, with bends, twists, and curves. The newest addition is the one I'm wearing on my ring finger. It is a simple wave and the wave perfectly fits and accentuates my engagement ring. It has been my go-to wedding band as of late. A simple design can create such a unique impact!
Trend #4: Neck Jazz
My neck has been getting extra love lately as I've been really into karat gold necklaces, pendants and different types of chains. I added a solid gold wire necklace a few months ago to my jewelry wardrobe and it has been a game-changer. So many things I can do with it, the possibilities are limitless! I sometimes wear it alone, I can easily throw on a pendants or a grouping of charms, and I can layer it up as well, like seen here. I've been collecting lots of Egyptian Revival pendants and charms, like my ankh I'm wearing. I also can't get enough of my DMD Metal Shaman necklace with a diamond drool and my simple diamond with no setting whatsoever (it is a pierced, free-standing diamond) necklace from La Brune & La Blonde.
Trend #5: Ear Decor
How many of you got a new ear piercing this past year just because of how trendy karat gold earrings are?! Whether you pile on stud after stud, go for an ear cuff look, or go big and bold, ear decor has never been more popular! One of my favorite earrings are by Grace Lee Designs and she calls these Whisper Mobiles as each is like an art installation on your ear, but they are whisper-thin and ultra lightweight. I am wearing three different styles in one ear, all done in 14k yellow gold.
Trend #6: Gold for Guys
In a world with over 7 billion inhabitants, it is kismet that we find a partner that wants to spend the rest of its life on Earth with you. I happened to find that special person and what made our relationship even better was that he loves jewelry just as much as I do! From karat gold medallions, to karat gold sword stick pins, and everything in between, my husband loves wearing and collecting gold. My husband's advice to any guy? "You should invest in a really nice karat gold bracelet that easily goes with your everyday style." I agree!!
This sponsored post was brought to you in collaboration with May Is Gold Month.
Follow on Facebook
Follow on Pinterest
Follow on Twitter
Follow on Instagram
Monday, January 2, 2017 at 6:00AM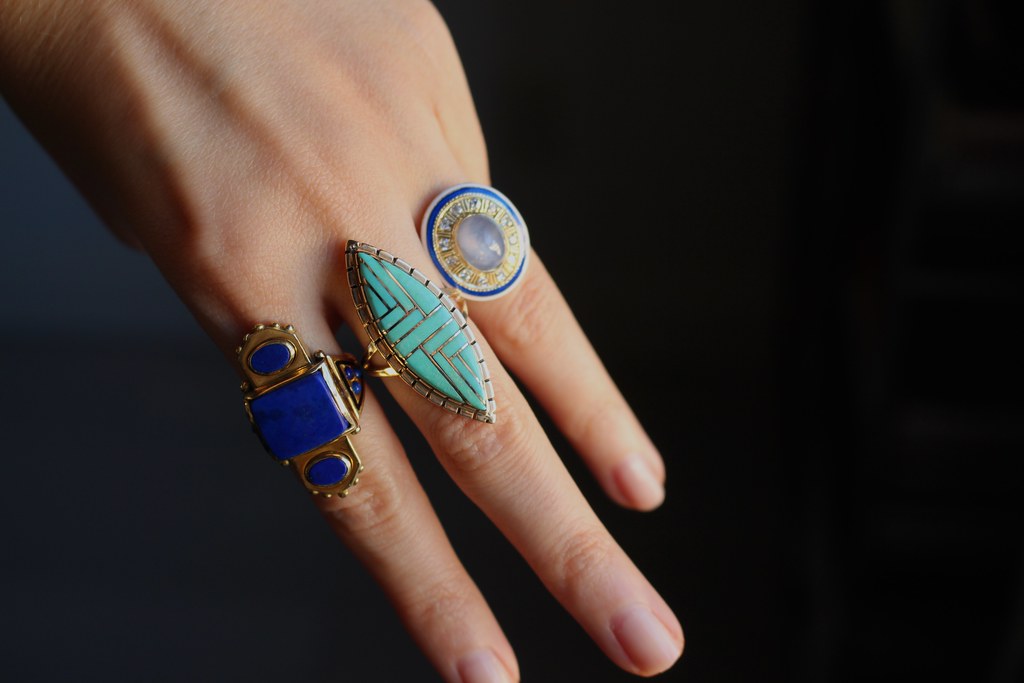 These were my top three most favorite acquisitions from the past year. I can't get enough of enamel, Native American Zuni pieces and geometric details.
As I look into my own jewelry box, I can predict some jewelry trends based off what I've been into lately--diamonds, opals, cool colors reign supreme.
Sentimental charms and charms with a theme are going to be huge for 2017. I have one common theme all on one bracelet--cross charms. Although bracelets are a great option, we are going to be seeing charms being worn more on necklaces.
Statement rings are huge for the new year--more specifically navette styles. As a long-time collector of this design, they are going to be in demand in every size--small, medium and large.
Continuing its comeback, PINKY RINGS! I seriously can't leave the house with one and I think it totally balances a ring stack. I used to look back on my old stacks and say, "cool but I really could've used a pinky ring to balance out the look."
Layers upon layers of necklaces, choker styles and some dangling with charms. Got tangles? That's ok!
As with everything in life, time goes on and the world continues to spin...but as we said goodbye to 2016, did we also say goodbye to some jewelry trends? And what is in store for 2017? Most of you are doodling in your journals or freshly purchased 2017 calendars the words, "new year, new me!" in your best handwriting. I'm here to help you make that wish happen and make sure you are totally in the know with what's going on in the world of jewelry trends.
You may have guessed, some of the things you've let go or sold for scrap gold are coming back. But this isn't groundbreaking news. This tends to happen in many aspects, including fashion and home decor. Those mom jeans everyone made fun of are suddenly all you are wanting to get your hands on...and those brass fixtures your grandma used to scatter around her house are now in demand. If this has you thinking you're suddenly trapped in the Twilight Zone, look no further than the necks of fashionistas. Chains upon chains with a sort of Mr. T theme are sweeping the trend forecast here on Gem Gossip--and yes, I've just ordered myself a choker-length heavy figaro chain. What am I, back in 8th grade dressing like my former wankster boyfriend? Yes. You are.
I'm ok with that because the look is amazing and speaks to my aesthetic of more is more. As a maximalist through and through (have you seen my office?!) I tend to fill up spaces, including my body, with the most of everything I love. An empty white wall? Omg no--fill it with a hundred gold frames from top to bottom. A bare neck? What are you crazy? Drape every chain you have in your jewelry box and create a look. You may wonder about my dismay when people buy things and don't enjoy them or put them away for a "special time." That's craziness to me.
Besides the 80s chains/90s choker styles, there are several other jewelry trends for the new year. I've highlighted a few above using pictures to illustrate as best as I can. Are there any trends you think will be big for 2017 that I haven't mentioned? Make sure you email or tweet me! I'd love to hear your take.
And jewelry trends I hope to see go -- I know so many of you are going to hate me for this but, dainty jewelry! It is still so strong with sales, jewelry designers and are often some of the top photos with most likes on Instagram, but I am so over dainty jewelry. I don't know where this sudden Texas mantra of "bigger is better" is coming from out of me, but that has become my slogan. At least in the ring department. Earrings and necklaces are a different story I guess.
And finally, I wanted to do a fun New Years-like countdown of my TEN favorite rings to RING in the New Year. Corny, right? So corny but so necessary. These are the foundation of what is on my wish list for the future and what I'm currently feeling at this very moment in time. Enjoy!
10. This funky mashup created by Erie Basin, which is part spaceship part intergalactic fantasy. Anything funky or out-of-this-world seem to be high on my list of demands. This is so YES.
9. Obsessing over anything Bario Neal creates in their store/studio located in Philadelphia. Their incredible gemstone pops of color mixed with interesting details and combinations is something I am loving right now. It also doesn't hurt that everything is thoroughly ethical in every way possible.
8. When Steven Sher Antique Jewellery posted this ring I couldn't keep my eyes off it. The backstory of it makes it even cooler--they basically gave their jeweler a bag of emeralds and created this from five he chose out of the random bag. Creativity like this just comes naturally for some people and this jeweler has it!
7. A ring that looks like it is featured in a museum from an archeological dig, this piece caught my attention when I found out it is a brand new piece designed by HHD Jewels, also know as Henry Dakak Jr Jewels. Henry is a Lebanese designer who not only designs jewelry, but furniture, lighting and home accessories.
6. We all know my obsession with antique diamond elongated rings. This one from Trademark Antiques had me swooning as soon as I saw it. Every year I usually add at least one to my growing collection of these and I'm excited to see which one I will add in the upcoming year.
5. When I look at this ring I instantly smile. That's what I love most about this Harika Fine Jewelry design. I also can't get enough of face motifs in jewelry and this one is definitely a unique spin on that.
4. A statement ring is something you keep hearing me say over and over in this trend forecast and this is the ultimate statement ring! Designed by Emily P Wheeler using an incredible 2.67 carat garnet cut by TopNotch Faceting--I love how she added diamonds and moonstones in varying sizes to surround the stone.
3. Since the day I visited David Webb in NYC and got my own private tour I've been obsessing over and saving up for my very own special piece. I have no idea what I want but when the time comes (probably years from now) I will hopefully know exactly which it will be. In the meantime, I'll continue to obsess, like over this panther ring.
2. Voiage Jewelry continually posts the most lust worthy jewels but for some reason this particular ring grabbed my attention the most. I love when a designer can balance lots of color, which this ring totally does, but it also balances several different shapes. It also features a trend that I actually haven't mentioned here yet, but geometrics and modern design--both heavily apparent in this piece.
1. And finally, number one is this collection from Polly Wales wonderfully photographed by stockist New Twist. It's bright, it's fun, it's bold--so many features which scream new beginning, fresh start. So if you're looking for a ring which will bring you luck and happiness into the new year, Polly Wales' Ourika Collection has you covered!
HAPPY NEW YEAR EVERYONE!
WANT MORE? Check out more jewelry trends